Lyrics and Chords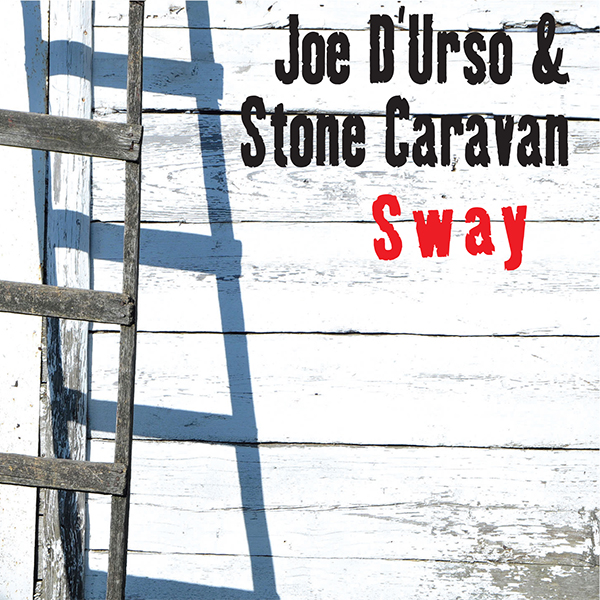 Sway Credits
Sway - Joe D'Urso & Stone Caravan
1) Come Down With Me (Asbury Park) - D'Urso
2) Brand New Start - D'Urso
3) Hanging Out in Tucson - D'Urso/Berg
4) Sway - D'Urso
5) It's Been A Long Time - Van Zandt
6) All My Friends - D'Urso/Sica/Albanese
7) I'll Take All The Blame - Martin/Hicks
8) One Guitar - Nile/Lee
9) Summertime Dreaming - D'Urso/Albanese
10) Love Her Blues - D'Urso/Berg
11) Freedom - D'Urso/Berg
12) NYC Taxi Ride (instrumental) - D'Urso/Berg
Tracks 1,2,4,5,6,8 recorded and mixed at OK Records - Nyack, NY by Greg Talenfeld
Additional recording to Tracks, 3,9,10,11,12 recorded and mixed by Greg Talenfeld
Tracks 3,9,10,11,12 recorded/mixed at Jolly Roger Studios - Hoboken, NJ by David Domanich
Tracks 3,9,10,11,12 produced by Joe D'Urso and Michael Mazzarella
Tracks 1,2,4,5,6,8, produced by Joe D'Urso
All Tracks Mastered by Carl Rowatti of Trutone Mastering
Package design by Harry Choron - March Tenth Inc.
Contact Information:
Caravan Management - [email protected]
Bob Benjamin - [email protected]
Website: JDCaravan.com
Check out these good sites: Lightofday.org, WHYHunger.org
Sam LaMonica: drums, tambourine
Mr. Lou DeMartino: bass and backing vocals
Greg Lykins: electric guitar, vocals, piano on track 2
Joe D'Urso: acoustic guitars, vocals, vibra-slap, cowbell, tambourine
Neil Berg: piano on tracks 3,9,10,11,12 and vocals on track 12
Rita Harvey - vocals on tracks 1,3,4,6,11
Greg Talenfeld - organ on tracks 6 and 7
Tony Pallagrosi: piano on track 8 and backing vocals on tracks 5 and 8
Mad Dog Horns: track 1 - Steve Pavia (bone), Bart Crum (sax) Gary Bowers (trumpet)
Tracks 1,2,4 - Four Chords & The Truth Publishing (BMI)
Tracks 3,6,9,10,11,12 - Three Chords & The Truth Publishing (BMI)
It's Been A Long Time - Steven Van Zandt/Almo Music Corp.
One Guitar - Willie Nile and Frankie Lee/Modern Works Music Publishing
I'll Take All The Blame - Terence Martin and Gregory Hicks/Good Dog Music
Releases from Joe D'Urso & Stone Caravan
2013: Sway
2010: Down Here By The River
2009: One More Song Live
2006: Cause...
2005: Best 1991-2003
2004: Audience Of One
2003: Both Sides Of Life
2000: Rock and Roll Station
1998: Glow
1996: Mirrors, Shoestrings & Credit Cards
1993: Rock-Land
1992: The Snow, The Rain & Yesterday
1991: 45-10 Pearson
My love always to Lisa, Guthrie and Remi. Thanks for understanding.
Many thanks to Sam, Greg and Mr. Lou for taking this ride.
Special Thanks to Dad, Theresa, Joanne, Carol and JP for the support.
2013 SCR/Schoolhouse Records Release.
201 South 2nd Ave. #22, Highland Park, NJ 08904
All rights reserved. Unauthorized duplication is a violation of applicable laws.
Manufactured and printed in the U.S.A.