Bio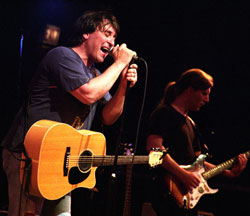 Joe D'Urso has released 14 records since 1991, the most recent being 2018's "Jersey Diner". The new release features 11 original songs along with odes by Tom Waits, Harry Chapin and Bruce Springsteen. Joe has performed in 27 countries. With his band Stone Caravan - an Americana, Jersey Shore, Rock & Roll band, they have created a worldwide grassroots network of fans. Joe's catalog of music is released on his own label, SCR/Schoolhouse Records. Long time Stone Caravan members: Sam LaMonica (Drums) and Greg Lykins (Guitar) were joined in 2015 by Jerry Scaringe (Bass) after the sudden passing of Mr. Lou DeMartino in 2015. Joining in the recording was Seth Saltzman (Piano), Ken Harten (Fiddle), Craig Shepperd (Percussion), Steve Bernstein (Trumpet), Vini "Mad Dog" Lopez and Joanne Lediger (Vocals).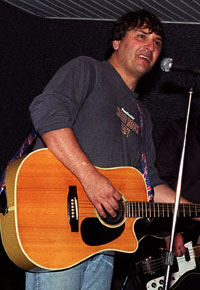 Joe D'Urso & Stone Caravan released their 13th CD on SCR/Schoolhouse Records, titled "Sway," in January 2013. The 12-song CD was recorded in Nyack, NY and features nine songs written/co-written by D'Urso and three tunes penned by Willie Nile, Steven Van Zandt and the late Terence Martin. "Sway" is an upbeat, rocking record and covers some good territory on the Americana/Jersey Shore/rock and roll painter's palette as the CD runs the gamut of straight-up Americana rock and roll, singer-songwriter offerings, Jersey Shore influences and New York State/Catskill Mountain country-tinged instrumentation.
In 2010, JD&SC released their 12th CD on SCR/Schoolhouse Records, titled "Down Here By The River". The 14-song CD was recorded throughout 2009 in JD&SC's home area of Rockland County, New York and features 11 songs written or co-written by D'Urso and three tunes penned by Marah (Round Eye Blues), Little Steve Van Zandt (All I Needed Was You) and the BoDeans (Angels). The 11 D'Urso songs/co-writes are "Down Here By The River," "Waiting On A Train," "Mystery," "On A Night Like This," "Anything More," "Since She's Been Gone," "Once Again," "Loving and Living," "Hold On," "Brass Ring" and "LaGuardia To Weehawken (or From Grave To Save)" and finds Stone Caravan (Sam LaMonica/drums, Greg Lykins/guitars, Mr. Lou DeMartino/bass, D'Urso/acoustic guitars) joined by an array of vocalist friends: Willie Nile, Danny Zolli, Joe Rapolla, Carter Calvert, Dave McKeon and Tim O'Donohue. Joining JD&SC is Stone Caravan alumnus Chuck Chesler on organ/accordion/piano, Perry Paletta on mandolin, Dave Yannuzzi on lap steel/dobro, Dave McKeon on banjo and Darren Lunar on percussion.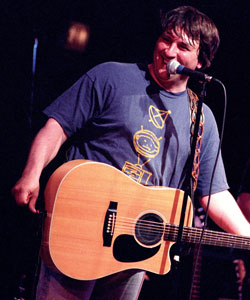 With its flowing river images throughout many songs, the CD ends with the co-written song "LaGuardia to Weehawken (or From Grave To Save)" with lyrics from D'Urso's boyhood friend, Steve O'Brien, who was a passenger on Flight 1549 that safely landed in the Hudson River. 2010 found D'Urso, both solo and with Stone Caravan, touring the world again.
In April of 2009, JD&SC released their first live recording "One More Song Live" on SCR/Schoolhouse Records. This 32-track double CD was recorded in June 2008 at the legendary Turning Point in Piermont, New York and serves as a showcase of the band's energetic live performances. The live CD includes D'Urso-penned fan favorites like "Rock and Roll Call," "Noisy Guitars," "Welcome Home," "Tell Me Why," "So Tired," "Numb," "Minute To Midnight," "Glow" and others.
In January 2006, JD&SC released "Cause..." The 15-song "album" is divided into Side 1 and Side 2 with topics ranging from friendship, war, marriage, oil, soul searching, and lost love. As in past offerings, D'Urso mixed his writing and music with full-out rockers and quiet observations. "Cause..." was recorded a live, garage rock feel than previous offerings and is quite unique as it's "narrated" by wise musings/introductions by the late Harry Chapin. Besides 12 new D'Urso originals, JD&SC took on John Stewart's 1979 Top 5 hit "Gold," Bob Dylan's "I Shall Be Released" and Chapin's "Taxi".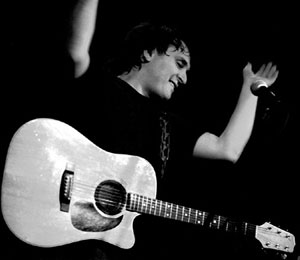 This CD followed up 2005's "Best 1991-2003". The 19-song compilation scans D'Urso's songwriting from a Greenwich Village/Jersey shore startup to international independent touring artist. The CD includes 16 songs chosen by fans through JD&SC's website, as well as three unreleased songs. Also released was the band's foray into video with the DVD "3 Days in Italy," which documents two Italian performances in February 2004. This DVD was released through the band's "Bootleg Series" as it was shot and recorded by Italian fans.
Other CD releases that expanded JD&SC's fan based are fan favorites "Rock & Roll Station" in 2000, "Glow" in 1998, and "Mirrors, Shoestrings & Cards" in 1996.
Stone Caravan has come a long way since founding members D'Urso, Dan Albanese, Rich Sica and Bob Place got together in the summer of 1989 in a crammed bedroom in Long Island City, NY. The band was originally named "Three Chords & The Truth" but after six months was renamed "Stone Caravan" and then renamed "Joe D'Urso & Stone Caravan" upon releasing their third record in 1993, "Rock-Land".
D'Urso remains true to an ideal inspired by the late Harry Chapin: that it is essential to help the less fortunate. He currently sits on the board of directors for The Light of Day Foundation, which raises awareness and funds for Parkinson's disease research. Joe sits on the board of WhyHunger and is a founding member of Artists Against Hunger and Poverty. In his home area of Rockland and Bergen counties (NY/NJ), Joe is a member of the Dan Sullivan Foundation, which raises money for college scholarships and folks who have experienced medical hardships.
Joe is the founder/owner of the Rockland-Bergen Music Festival (RBMFestival.com), which takes place every June on the borders of New York and New Jersey and is also a minority owner of the legendary C.B.G.B.
Websites:
www.jdcaravan.com
www.lightofday.org
www.whyhunger.org
www.rbmfestival.com
www.cbgb.com